Training for the prevention and preparedness of HAZMAT (hazardous materials) incidents is paramount to ensuring safety of emergency responders and potential victims in an exposed environment.HAZMAT substances may be released as liquids, solids, gases or a combination of all three, including vapors, mist and smoke and the presence of a HAZMAT substance may be barely perceived unless one is trained in recognition and identification.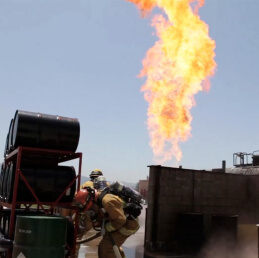 CHALLENGE:
To provide realistic, engaging, and safe training instruction that authentically represents the risks involved in mitigating HazMat threats.
BENEFIT:
Identifying chemical, gas and biological agents using scent recognition in HazMat training and simulation scenarios can help minimize potential personnel or public contamination. By replicating situations and using aroma generators to insert odors and malodors into training scenarios, instructors can provide the foundation for "prior knowledge" in unknown environments as well as support situational awareness.
HazMat Preparedness is Critical to Maintaining Personnel and Public Safety
HazMat teams must be ready and effective in the response, and prevention of incidents that are of a physical, chemical, or biological in nature that poses a potential risk to life, health, or property if released. According to www.osha.gov, "definitions for physical and health hazards are:… chemical for which there is scientifically valid evidence that it is a combustible liquid, a compressed gas, explosive, flammable, an organic peroxide, an oxidizer, pyrophoric, unstable (reactive) or water-reactive."
Incidents can occur in the home, the workplace, industrial and commercial sites, lab settings, manufacturing plants, roadways, and medical facilities where accidental human exposure to such substances can compromise the safety and welfare of the public as well as emergency crews through absorption, ingestion, injection or inhalation. Training personnel to understand all of the nuances involved in these circumstances is a daunting, yet imperative, task. Simulated training programs provide a realistic experience by immersing emergency crews in replicated disaster settings. Within these scenarios, the introduction of smells distributed by SensoryCo aroma generators allow for the initial exposure to, often, unrecognized odors and malodors. In fact, scent recognition has been found to play an important role in preventing injury and saving lives.
Aroma Generators can Assist Emergency Crews In Unknown Environments
When first responders arrive at a HazMat scene, they don't always have enough information to know what they might be faced with upon arrival. Emergency crews must assess the incident using sensory evaluation to determine potential dangers, sources, and containment strategies. Do they see smoke or a vapor cloud? Do they hear a specific sound? Do they smell an unusual odor? Within the Center for Disease Control (CDC), the Agency for Toxic Substances and Disease Registry (ATSDR), states that "Odor, vapor clouds, dead animals or fish, fire, and skin or eye irritation can signal the presence of hazardous materials. Generally, if one detects an odor of hazardous materials, it should be assumed that exposure has occurred and the individual is still in the danger area, although some chemicals have a detectable odor at levels below their toxic concentrations." Furthermore, it says, "identifying the hazardous material and obtaining information on its physical characteristics and toxicity are vital steps to the responders safety and effective management of the hazardous materials incident."
SensoryCo has a complete library of replicated toxic odors and malodors. Delivered by our aroma generators, these scent cartridges give trainees a truly realistic exposure to smells found in disaster-related situations. Releasing simulated aromas into the atmosphere with scent systems allow the brain to make tangible decisions based upon the characteristics of the odor.
Scent Recognition Adds Depth to Situational Awareness Training
"We can read scents and we can say and memorize words but it's the smell that you need to know to save your life."
-HMN Ed. Phil Ambrose
HazMat incidents have multi-layer casualties with unclear vulnerabilities and risks that must be uncovered. Detection of an unusual or abnormal odor can give clues to the presence and/or location of a threatening situation. HazMat professionals interview witnesses and victims about different environmental conditions that include the time a smell was discovered and a description of the odor. Highly dangerous substances can smell like everyday food and plant items. For example, Hydrogen Cyanide has an almond scent and sulfur mustard has a garlic scent. Other fumes have identifying properties and compounds that can give more decisive clues.
Training for the prevention and preparedness of handling hazardous materials in high-risk settings is paramount to ensuring the safety and welfare of workers, emergency responders, as well as potential victims and witnesses. By introducing scents into HazMat training and simulation programs, SenscorCo aroma generators allow participants to become familiar with different smells that may seem out of place in different circumstances. Having prior knowledge of a particular odor or malodor is an asset and scent recognition gives HazMat personnel an early advantage in identifying potentially harmful and noxious threats. SensoryCo products, including aroma and scent generators as well as vapor and smoke systems, provide training support for the delivery of disaster-specific programs. SensoryCo provides a full line of chemical odors such as chlorine gas, mustard gas, cyanide, diesel gas, mercaptan and laboratory while vapor and smoke systems can mimic gaseous releases or create whiteout conditions.
ScensoryCo provides a full line of chemical odors such as chlorine gas, nitric acid, sulfur, and natural gas while vapor and smoke systems can mimic gaseous releases or create whiteout conditions.
Examples of atmospheric effects used for HAZMAT training include:
Smells: ammonia, nitric acid, chlorine, red phosphorus, gasoline, WMD variations.
Smoke effects: burning chemical storage facility, railway fire, confined space whiteout, smoking tanks.
Sprays and vapors: low lying chemical vapors, leaking drums, de-contamination, chemical sprays.
Available Downloads


View or download a PDF with a more comprehensive list of aromas
---
Interservice/Industry Training, Simulation, and Education Conference (I/ITSEC) 2010 Paper No. 10030
The U.S. Army Simulation and Training Technology Center (STTC) performed research to improve the realism of the look, feel and smell of trauma simulations where it was determined that olfactory cues play an important role in memory and training. The study reviewed the idea that the addition of olfactory simulation in immersion training simulations could potentially enhance the perception of engagement, facilitate learning and expand the breadth of skills that can be trained. While the research involved medical trauma settings, the application could be extended to "training combat medics within realistic warfighting scenarios", and thus, pertain to CBRNe training programs. "Exposing trainees to particular smells may help avoid the shock of first smelling the odors on the battlefield. Preparing for all the sights, sounds, smells and feelings associated with combat may help provide Soldiers with the strength required to face adversity, fear, and hardship."