Firefighting is one of the most mentally and physically challenging professions. From prevention and fighting fires to managing hazardous materials and injured people, firefighters have to be ready to expect the unexpected. Firefighter training includes practical knowledge of fire safety as well as gain understanding of disaster preparedness and fire science. Dangerous atmospheric changes can happen unexpectedly with changes in weather conditions, structural composition, and the emergence of fire tornadoes and fire storms.
Developing a safe, yet ultra-realistic training program pushes the envelope of traditional live fire training and simulated environments. To take everything to the extreme, atmospheric effects such as odors, sprays and smoke help complete the experience and offer sensory cues that would not otherwise be present in a safe, controlled environment.
What Does Danger Smell Like?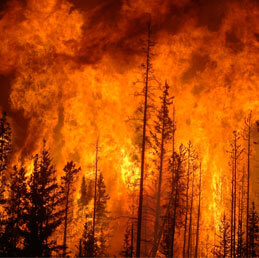 Inserting an odor into training can provide information that a firefighter may not otherwise process. For example, the smell of natural gas emitting from behind a closed doorway may be enough to alter a standard course of action, forcing improvisation. And it is unlikely that the smell would be present in a controlled environment without the use of simulated aroma technologies.
SensoryCo scent generators, smoke and spray technologies prepare firefighters to use their senses to minimize risk. These atmospherics give fire fighters the ability to perform their duties without being "neutralized" by sensory overload or exposed to unsafe conditions.
Instead of learning on the job, firefighters can be introduced to highly designed situations that are not often encountered, yet desperately needed in a complete fire training program.
Examples of atmospheric effects used for fire training include:
Smells: burning electrical, burning rubber, burning wood, fire, natural gas.
Smoke effects: smoking building, big rig fire, whiteout conditions in warehouse, smoking tunnel.
Spray effects: vapors, bursting pipes, leaking gasoline.
To view or download a PDF with a more comprehensive list of aromas, click here.