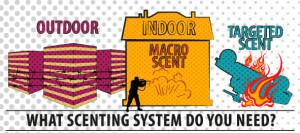 First responders, military personnel and hazmat teams are often exposed to irritating and potentially dangerous odors. Malodors can be disorienting, nauseating or possibly provide a clue to other hazards. Incorporating a SensoryCo smell generator into training with safe, yet realistic scent effects can help these personnel prepare for risky conditions.
Training with Malodors
Most people would be overwhelmed by the smells experienced in an emergency situation, but responders must be able to withstand sensory assaults. Studies have found that repeated training with odors creates both recognition and desensitization, helping responders to ignore sensory attacks and focus on dealing with the emergency situation.
Range of Smells
SensoryCo produces a vast array of simulated odors from benign but region-specific to the dangerous malodors and vapors experienced by law enforcement, urban search and rescue, military, CBRNE (chemical, biological, radiological and nuclear defense) and more. Various non-toxic odors can be incorporated into training to simulate those found in emergency or investigative situations. Some of the common scents used in these programs include: simulated gun powder, meth lab and other chemicals, smoke, burning tires, burning electrical, natural gas, sewage, mustard gas, explosion or even blood and human remains.
Choosing a Smell Generator
Our SensoryCo scent training solutions range from small, portable smell systems suited to simulator environments to large-scale distributed multi-aroma systems for live training. SensoryCo smell generators are appropriate for indoor or outdoor use and different systems can run from up to 200 hours of continuous use to 12 hours per day for 7 days per week. Most systems can be set for timed intervals, various intensities, and up to four different scents. Our largest generators can accommodate a training area over 50,000 square feet.
Work with Sensory Co
At SensoryCo, we provide an unparalleled range of scent delivery systems. We have worked closely with many organizations to develop custom scents and malodors to integrate into their training protocols. Our systems are easy to operate and we will help you determine the best smell generator for your programs and needs.
Our first responders, military and other emergency personal deserve the best preparation to keep them safe and effective. Incorporating a smell generator and malodors into training programs gives these professionals the repetitive exposure they need to deal with the sensory assaults of their jobs, and focus on the incident at hand. SensoryCo will work with your organization to tailor the scent effects you need to provide your team with the best possible training.