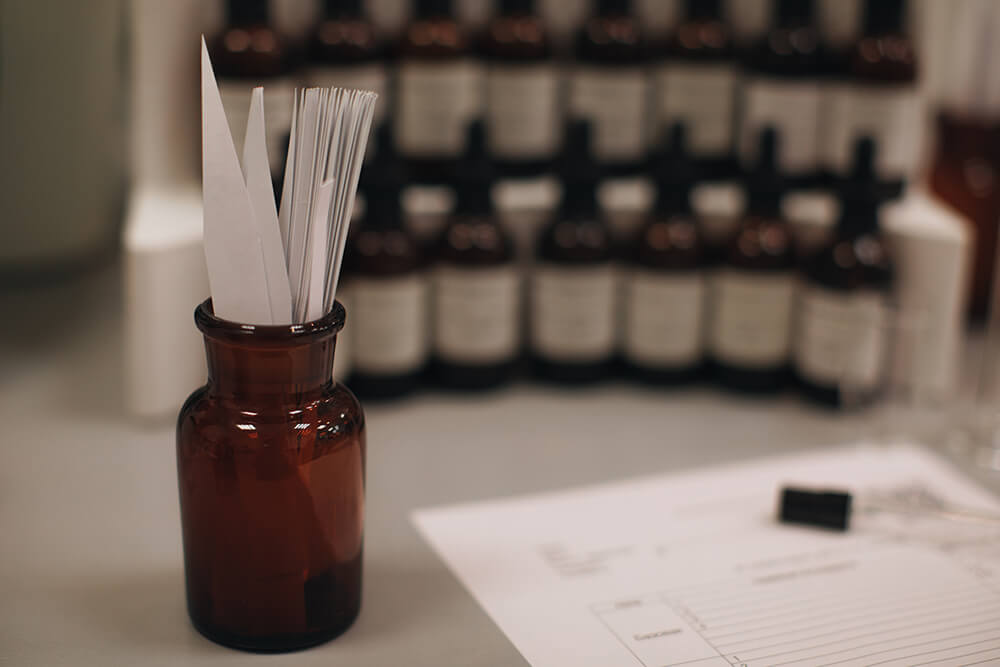 September is California Wine Month, and you're invited to celebrate, SensoryCo-style. Did you know? SensoryCo develops signature scents the same way winemakers use their noses to create the perfect sip so our scent machines can provide a measured level to aroma.
SensoryCo clients have very specific needs for their special effects applications that involve the sense of smell. They expect the scent to be true to smell, the cartridge to have a measured length of time and scale of distribution with the use of our scent machines. So how do we test to identify or define a particular scent profile? SensoryCo tests each and every aroma, bouquet, odor, or fragrance that we create to make sure the tone or profile is as authentic as possible to the smell's origin. To get it right, we evaluate scent profiles using classifications such as sweet, sour, bitter, salty and umami.
Our evaluation is very similar to a wine tasting "test" where you try to identify the different ingredients within a grape varietal. There is a unique wine-smelling ritual that witnesses a potential taster putting their nose deep into a wine glass to take a whiff, snort or sniff a hint of flavor or a mysterious ingredient. The reason behind this has to do with our sense of smell's relation to our sense of taste. The complexity and body of a wine is made up of elements from the production of the grapes and the liquid result has aromatic compounds.  It's been said that smelling your wine first gives you a hint as to what you might taste in your mouth.
By the same token, fragrance descriptors are derived from the same subjective taste and smell experiences that are influenced by personal experiences, memories of smells, and individual tastes. Thus, the smell cartridges that are used in our scent machines are, in essence, multi-dimensional.
In addition to aromatic bouquets, we also test for putrid odors…not as much fun, but equally important to make sure our scents provide the truest, most authentic impact for our client's use.  One example, "Burning Flesh", has been used in special effects simulation and immersive training scenarios for medical, urban search and rescue field operations. These smells are not fun to sample but we document descriptors that encapsulate the malodors that are distributed by our scent machines. For example:
| | |
| --- | --- |
| Aroma | Burning Flesh |
| Top Notes | Fruit and Sulfur |
| Middle Notes   | Spice |
| Bottom Notes    | Medical, Cookie, Woody |
| Description  | Strong sulfur smell infused with hint of light clove |
| Distribution of Smell | Saturation per square foot based upon automated time release |
Through extensive testing, SensoryCo synthetic aromas are ultra-realistic and produce incredible real-life immersive effects of the highest quality. Our team carefully considers when meeting clients' needs to produce a custom "aroma or odor.". Be it a specific food, a unique perfume replication, or a state-of-the-art chemical or organic formula made for critical training environments, each customer will have access to our complete scent library. If we do not have the aroma you seek, your team can meet with our scent specialists for a consultation on what is possible and what scent machines are appropriate for your specific application.