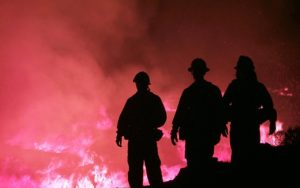 Burning rubber, thick smoke, chemical vapors…these are just some of the extreme sensory experiences that military and first responders face. Inexperience dealing with these dangerous and potentially life-threating situations can reduce effectiveness and even cause physiological trauma. How do we ensure that they are well-trained, safe and able to be successful in their efforts? SensoryCo partners with military, law enforcement, fire, urban search and rescue, hazmat and CBRNE organizations to provide realistic multi-sensory training solutions.
Stress Inoculation
Research shows that repetitive exposure to simulated extreme conditions improves reactions in real-life situations. Similar to a vaccination, immersive training prepares personnel to deal with an onslaught of sensory overload. The repetition of practicing in realistic conditions helps the mind and body become somewhat accustomed to these effects, making those conditions somewhat "normal," and no longer so much of a stressor. This allows the person to perform better with less distractions from the conditions and more able to focus on necessary actions.
Dangerous Work Conditions
Imagine the various extreme situations in which military, law enforcement, fire, urban search and rescue, hazmat and CBRNE organizations encounter. Natural disasters, explosions, fires, chemical spills, military action and more can all cause a multi-sensory assault. Often these personnel enter a situation without knowledge of what they will face. Blinding smoke, irritating and dangerous chemical vapors, nauseating or toxic odors, and even extreme weather can all effect the ability to function effectively and make appropriate decisions.
Multi-Sensory Training Solutions
SensoryCo provides safe and non-toxic multi-sensory effects to create realistic training environments. Tools including smoke generators, fog and vapor generators, spray effects systems, weather effects systems, scenting systems and a range of simulated aromas and malodors all contribute to providing the repetitive immersive exposure to allow these personnel to practice working in these situations. These various systems provide extreme, yet programmable and controllable conditions and built for the rigors of live and simulated training environments. Sensory training and desensitization has even been found to be a successful part of the prevention and treatment of PTSD.
Realistic, Non-Toxic Olfactory Input
SensoryCo aromas are ultra-realistic and include a library of odors and malodors for exposure in medical and battlefield training, hazardous chemicals, gases and choking agents, natural environmental smells, and man-made smells. Some specific scents include: aviation fuel, gasoline, gunpowder, burning wood, burning plastic, burning rubber, meth lab, garbage, sewer, sulfur, body odor, and even human remains.
Physical and strategic training of military, law enforcement, fire, urban search and rescue, hazmat and CBRNE organizations are some of the cornerstones of preparation for the dangerous situations these personnel encounter. However, the additional multi-sensory training solutions provided by SensoryCo contribute to next-level readiness to ensure that these brave men and women are ready to handle the extreme and unique conditions inherent to these jobs.